There probably isn't a warrior in history who didn't understand the importance of one's head in battle. And because the head is important, at Medieval Armour, we offer a number of historic pieces of chainmail armour, ranging from chainmail coifs to chainmail hoods and more, all to ensure that your head is protected in a true medieval fashion. We offer a wide range of chainmail coifs, many made from 10mm chainmail and many made to standards that enable them to provide more than adequate protection when it comes to their function as functional medieval armour. Like any piece of chainmail, our chainmail hoods and coifs can come in different styles, ranging between round ring chainmail to flat ring chainmail, to riveted chainmail, to the more common butted chainmail. The only similarity between all the styles we offer is that each one is steel chainmail, to ensure its authenticity and its effectiveness in battle. Even our pieces of blackened chainmail are steel, ensuring that they are as effective as they are intimidating! Whether you're wearing it for show or for protection, any time you march into battle, it's always a good idea to have on a good piece of chainmail head armour, and the best place to find such a piece is right here, at Medieval Armour.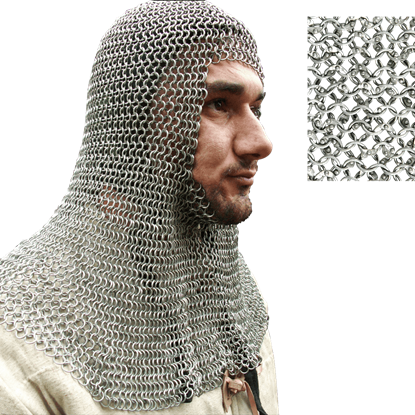 Item # AB2556
Soldiers marching onto the battlefield need to protect their heads from attack. They wear armour like this Dome Riveted Round Ring Chainmail Coif. This 16 gauge steel coif is great for historical reenactments and Renaissance faires.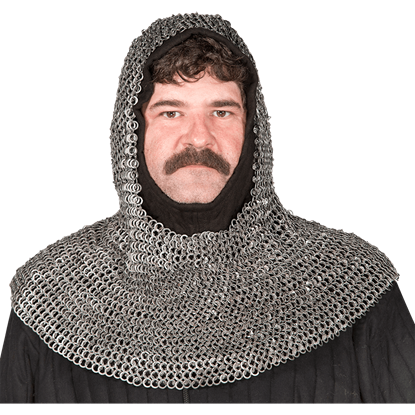 Item # HW-700768
Protecting your head in battle is essential for any medieval warrior. The Round Ring Round Riveted Chainmail Coif is perfect for upping the defense of this area, covering the head and neck with round rings of 18 gauge steel.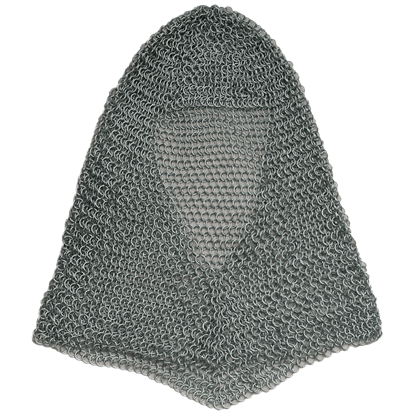 Item # ZS-910967-HD
Give your head the protection it deserves with this Silver Butted Chainmail Coif. This medieval head armor provides a comfortable, authentic appearance for any medieval outfit. It is constructed with 16 gauge round mild steel.