The chest is, without a doubt, the largest target on a body going into battle. Luckily, if you shopped at Medieval Armour beforehand, you'll already have an edge in the form of steel body armour. Fully protected by the steel cuirass or harness of your choice, you can advance into the enemy ranks without fear, knowing that your torso is well-protected by layers of steel armour. We offer a wide selection of fully functional body armour that is designed to not only keep you safe, but replicate the look and feel of various historic and medieval classes of warriors, ranging from Roman soldiers to classic knights in their shining plate armour. Our steel body armour comes in different shapes and forms, ranging from a typical steel breastplate or steel cuirass to the much-needed steel backplate, which when worn together wraps your torso in a complete layer of steel (or steel and leather, depending on the backplate chosen). Being made from steel, this is battle ready armour, making it perfect as both LARP armour (live action roleplay) and as SCA body armour. This steel armour comes in various different styles, ranging from classic medieval armour fit for any soldier to the gothic armour of later medieval knights, down to the classic Roman lorica segmentas that were favored by soldiers in the Roman Legion. Fully functional and incredibly detailed, the steel body armour you'll find here at Medieval Armour is just the protection you need when you're planning to walk onto the field of battle, whether you're doing so for a stated production, a grand LARP battle, or even a reenactment with live or blunted blades!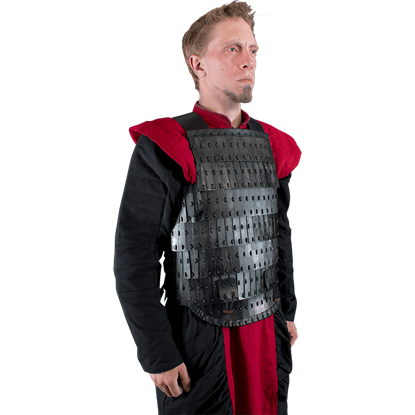 Item # MCI-3076
Guard yourself from the blows of the enemy with this excellent LARP breastplate! The Steel Ratio Lamellar Armour covers your torso with overlapping metal panels that give the armor a scaled or patterned appearance.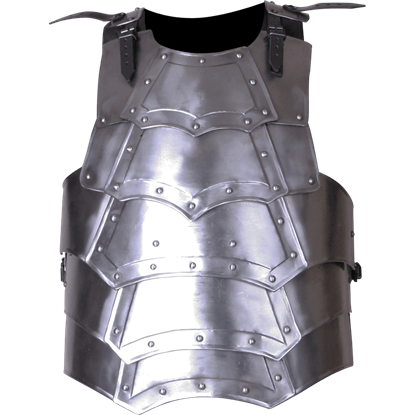 Item # MY100046
Protect the core of your body when you head into battle with the help of excellent plate armour like the Steel Vladimir Cuirass! The steel cuirass is composed of multiple flexible segments showing a bright metal finish.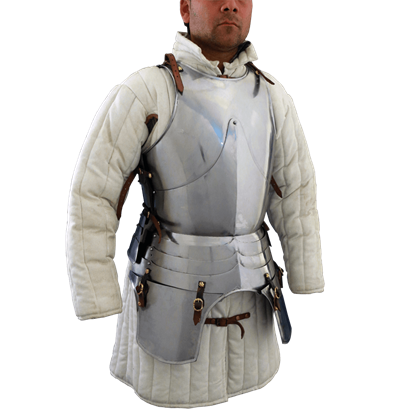 Item # AH-3896N
As weapons of the middle ages became more advanced and armor became more common, armies began fielding soldiers that wore this 15th Century Foot Soldier Half Armour, instead of the once-typical padded and chainmail protections.